Welcome to Mysteries over Martinis! This blog is a mix of unexplained phenomena and personal encounters served up with a mystery-themed cocktail. It's a recipe for intrigue!
Frangelic Intervention
Ingredients:
3 parts vodka
1 part Frangelico
Pour contents into a shaker with ice, shake and strain into a martini glass. Like a guardian angel, watch over it as not to let it spill.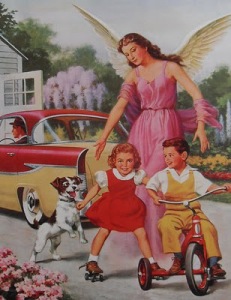 Celestial Chaperons
It's a common belief that humans are accompanied in life by spirit guides and angels. According to the Bible, angels are messengers of God. We often visualize them as radiant, celestial beings who are the intermediaries between Heaven and Earth. They carry out the will of God by acting as disciplinarians as well as providing protection and guidance to humans. They facilitate cosmic balance. Unlike angels, spirit guides are said to have once walked the Earth as mortals. It's believed that those who have achieved enlightenment in their incarnation as a human being, graduate to the role of spirit guide. Many people believe that angels and spirit guides cannot intervene unless the person they are assisting asks for help. However, there are some claims that these benevolent guardians seem to intercede without an invitation. The following are examples of such accounts.
Jane in Minnesota: About 16 years ago, my daughter Jessica began seeing someone she called Nick. She had special needs and was mostly nonverbal. She knew just a few words, but mostly used sign language. Well, Nick was with us for many years. I never saw him but she did. One day, we were grocery shopping and a middle eastern man came over to us. He said my daughter was an Angel. I was in a bad mood that day and said, "No she is naughty today." He handed me a card with a picture on it and something written in Arabic. He told me to put it over her bed and it will protect her. I thought he was crazy so I put the card in my purse and later placed it inside a junk bin in a closet.
We moved to a new apartment and I hired some caregivers to work with my daughter. One of her caregivers started telling me that Jessica was pointing to someone and saying, "Nick," so I told her the story. She was okay with it and would just say "Hi Nick" when Jessica talked about him. We did a prayer and asked Nick to not let her see him because it was scaring her. His visits slowed down for a while. Then, my daughter had eye surgery and got very sick. She got aspirated pneumonia and was in the hospital for 6 weeks.
The next year and a half, Jessica began seeing 2 more people named Kate and Marta. Jessica's health was slowly getting worse and I knew something was going to happen soon. Jessica had gone to a respite house for a stay and one of the nights I laid in her bed facing the wall. All of a sudden, I heard 2 women talking. One said, "It's not her." The other said, "Oh, it's her mom." I rolled over and no one was there.
Another night, I slept with her as she was sick. I felt someone hovering over me and felt someone push on Jessica's chest. We both woke up. On another night, I saw a full apparition of a lady in white standing near my dresser. Both of us were very scared at what we saw but I had to be brave for her.
I was telling this story to an intuitive healer at the hospital. She suggested I look for a picture of St Nickolas. I eventually found a picture and it was the same photograph as the one the man had given me at the grocery store years before. I now know she had an arc Angel at her side for many years. The other two were probably some kind of helpers like nurses or caregivers.
Catherine Wendell in Florida: When I was about 13 or 14, I used to sneak out at night.  I was a hell raiser. I smoked, drank, snuck out at night. It was fun, but so many other things could have happened to me while prowling around at night.
One day, my friends wanted to ride sideways on the railroad track. This consisted of going down one side of the railroad track, gunning the gas and everyone pushing to side so the car rides on 2 wheels. This day, I just did not want to go. I later found out a train came while my friends were on the tracks. They had barely pulled the last person out of the car before the train struck the blue Nova.  No one was hurt. If I had gone, someone would have been left in the car the way they all told it. We all were really lucky.
If I was not hanging out with friends or in the cemetery, I was at the corner store which stayed open late.  This woman named Sharon started working late nights there.  She was about 5'1, a bit heavy with short blonde hair and blue eyes. We visited quite a bit.
Sharon started working days all of a sudden. She would invite me to come to her house when I snuck out. She never told my parents, she just let me be me.  I had asked her, well more told her, she was psychic. I just somehow knew she was, I have no way of saying how I just knew. She replied, "Yes" and wondered how I knew.  I said, "Because my Grandma is psychic." To which she replied, "Yes, but you are too that is how you knew." She was a very good teacher and would try and help me understand anything and everything.  She was very patient with me.
When I snuck out, it was sometimes midnight or even 2 a.m. It never mattered, Sharon always let me in her house.  One night I asked her how she knew she was psychic. She told me this story I will never forget. When she was younger she often played with a little girl up the road. One day, she went to her house and knocked on the door.  Apparently, Sharon had not met her parents before because when she asked for the little girl, the parents were shocked. They said she had been dead for about 3 years.  She had been playing with a spirit and had not known she was not real.
Eventually, Sharon moved away with her family. My parents also moved us across the county. I was about 15 years old and in 10th grade in 1985. The move was a good thing for me. I got on track again in life. I concentrated on school and got a job.
A couple years passed and it was 1987. I was going into my senior year and I had a job at the Winn Dixie. I was at this job for all of two weeks. I really hated being a cashier. It was just so boring. I got a job at a restaurant where I could do several things at one time. I was going in to the Winn Dixie to get my last pay check, when I looked up and saw Sharon's husband standing there. His name was Jim and he was dressed in a security uniform. I was happy to see him thinking I could find Sharon again and visit with her.  He said she worked at a shop at the end of the strip mall where Winn Dixie was located. So, we went in to see her.  She invited me to dinner and we exchanged numbers.  How odd that Jim was a security guard there and Sharon worked right by me and I never saw them before. Odder yet, was getting directions from them and discovering they lived so close to me.
I went to dinner and told Sharon and Jim how well I was doing. They were very happy to hear it.  Sharon taught me about crystals and how they could heal. She said that she was going to meet a Native American, I guess like a chief or something like that.  She was very excited about it all. We had a nice visit and I learned so much.  I was like a sponge.
A few weeks went by and I went by their place to say hello. It looked vacant.  I spoke with the trailer park manager.  I asked, "What happened to Sharon and Jim?" He asked, "Who?"  I described them and he looked puzzled. Now I was feeling a bit crazy here.  I left. I went to the shop where Sharon worked and went in to see about her there. They also said they did not know a Sharon. I described her even asked for the manager to verify she knew whom I was talking about.  She did not.  I thought, "I must be going nuts!" I decided to leave and drop it before the looney bin came to pick me up.
I never knew what to think about what had happened. Was she for real?  Was any of her family I met real? Was I eating ghost food? How did I get inside the houses she lived in?  Why didn't anyone question whom I was talking to outside the Winn Dixie? I have always questioned these encounters and it has taken many years to understand it. Perhaps Sharon was not there in human form much like the little girl she said she played with as a child. I keep hoping to see them again someday but perhaps my memory in this story keeps her spirit alive enough for me.
Is it possible these instances were the result of divine intervention? These are certainly compelling stories. Perhaps guides intervene more than we realize. Most of us have become consumed with our lives and miss out on the small details. It's easy to be grateful for the positive events that benefit us, but what about those that seem negative? I often reflect on the stories of those whose lives were spared the morning of September 11th, 2001 due to flukes and what seemed to be trivial decisions. These ranged from taking an unusually early cigarette break, strolling on the commute to enjoy a beautiful summer morning, taking a different subway route and even oversleeping due to a faulty alarm clock. I try to remember these instances when I get delayed or encounter some obstacle. I know the reason may not be as obvious as escaping a terrorist attack but you never know what fate you may be avoiding. I suppose it is possible these instances were merely a string of coincidences but some stories are difficult to discount. Believe what you like, but I take some solace in believing that there may benevolent forces guiding me along my journey.
If you've had a mysterious encounter you'd like to share, please e-mail me and be sure to like the Mysteries over Martinis Facebook page. Weirdness is always welcome.